Want to pitch 5-7 mph faster?

Sign-up right now, and receive the Pitching Velocity Bible free of charge. Find out the exact techniques I used to increase my velocity by 7 mph in less than a year.
All Time MLB Pitching Records
The purpose of this post is to highlight the numerous all time MLB pitching records. Many of these records will never be broken for various reasons. This is primarily because baseball pitchers simply do not throw as much, and as frequently as they did in the past. I will focus on single game, season, and career pitching records.
As you will see, I will frequently mention the "live-ball era" within this article. This term refers to the period in major league baseball beginning in 1920, following what is often labeled as the dead-ball era. The 1920 season witnessed a significant increase in offensive statistics because of newly introduced cork-centered balls, and several rule changes that gave a slight advantage to the hitter (Source: Evolution of Baseball). I will only be mentioning statistics that have occurred during the live-ball era.
Single Game MLB Pitching Records
Most Strikeouts
Former Washington Senators pitcher Tom Cheney recorded 21 strikeouts against the Baltimore Orioles on September 12, 1962 in a 16 inning game.
Roger Clemens holds the record with Kerry Wood and Randy Johnson for most strikeouts in a nine inning game with 20.
While he was on the Boston Red Sox, Clemens became the first pitcher in MLB history to strike out 20 batters in nine innings against the Seattle Mariners. Ten years later, on September 18, 1996, Clemens repeated his performance by striking out 20 Detroit Tigers batters. No other baseball pitcher has ever struck out 20 batters on two separate occasions in MLB history.
On May 6, 1998, Kerry Wood struck out 20 Houston Astros' batters. Wood also holds the record for becoming the fastest pitcher to reach 1,000 strikeouts.
Randy Johnson is the most recent (May 8, 2001) pitcher to achieve the 20 strikeout feat. However, his performance is slightly more controversial because his game extended past the ninth inning, but he recorded all 20 strikeouts within the first nine innings. Because of the extra innings, the MLB has not categorized his performance as an official 20 strikeout game (Source: Wikipedia).
Most Innings Pitched
In 1920, Brooklyn Robins pitcher Leon Cadore and Boston Braves pitcher Joe Oeschger pitched 26 straight innings against each other in the same game. The game was eventually declared a tie because of darkness.
Other Numerous Single Game Records
In 1970, Mets pitcher Tom Seaver recorded ten straight strikeouts in a game, and is the only pitcher in history to do so.
There have been two pitchers to retire the first 27 batters of a game, and not record a perfect game. Four pitchers in history have surrendered six or more home runs in a single game. Seven pitchers have surrendered a home run on their first pitch in the major leagues.
Ten pitchers have lost their perfect game bids on the 27th batter. Sixteen pitchers have recorded four consecutive strikeouts in a single inning. Former Cincinnati Reds pitcher Johnny Vander Meer threw two consecutive no-hitters on June 11 and 15, of 1938. Lastly, there has been a total of 21 perfect games, and 264 no-hitters pitched in MLB history (Source: Baseball Almanac).
Single Season MLB Pitching Records
Most Wins
There are three pitchers who hold the record for single-season wins. Jim Bagby, Lefty Grove, and Denny McLain each had 31 wins in one season.
Bagby was the first baseball pitcher in the live-ball era (1920-present) to successful achieve 31 victories in 1920 when he played for the Cleveland Indians. Lefty Grove became the second pitcher to win 31 games during the Athletics' championship run in 1930. Finally, in 1968, Denny McLain became the last pitcher to to successfully record 31 victories when he played for the Detroit Tigers in 1968.
Notably, only thirteen professional pitchers have recorded 30 or more wins in a single season. There is a chance that no pitcher will ever reach 30 wins again because teams have five-man pitching rotations, pitchers do not throw as many innings, as many games, and as deep into games as they did in the past.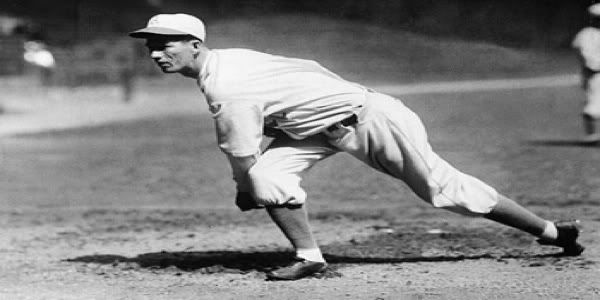 Lowest ERA (65+ IP)
In 1990, Oakland A's pitcher Dennis Eckersley had a record breaking season when recorded a 0.61 ERA, and this has remained the single-season earned-run average record. In the 2006 season, Red Sox relief pitcher Jonathan Papelbon recorded an outstanding .92 ERA, and barely missed beating Eckersley's record.
Papelbon also holds three seperate Major League pitching records including most consecutive scoreless innings to start a postseason career with 26 IP, fewest appearances to reach 200 saves, and Papelbon is the first pitcher to achieve 30 or more saves in each of his first five years of major league service.
For starting pitchers, former Cardinal Bob Gibson holds the ERA record for the live-ball era when he recorded a 1.123 earned-run average in 1968.
Most Strikeouts
In 1973, California Angels pitcher Nolan Ryan ended the season with 383 strikeouts, and this has remained as the single-season strikeout record. This will be a very difficult record to break because even the top pitchers in the MLB currently only compile around 250 strikeouts.
Most Shutouts
In addition to holding the single-season ERA record, Bob Gibson also holds the record for 13 shutouts in the 1968 season.
Most Complete Games
In 1946, Cleveland Indians pitcher Bob Feller achieved an absolutely incredible and unbreakable record with 36 complete games pitched.
Most Consecutive Scoreless Innings
Former Dodgers pitcher Orel Hershiser holds the records for the most scoreless innings pitched with 59.0 from August 30th to September 28, 1988.
Career MLB Pitching Records
Most Wins, Shutouts, and Complete Games
Warren Spahn holds three separate career pitching records. From a period between 1942 until 1965, the left-handed pitcher recorded 363 wins. This is the top mark during the live-ball era, and Spahn achieved it by pitching for three different teams including the Braves, Mets, and Giants.
In addition to his highest achievement in wins, Spahn holds the record for career shutouts with 63, and he also holds the record for career complete games with 382. These records are remarkable, and show the incredible longevity of Warren Spahn.
If we were including both the dead-ball and live-ball eras, Cy Young holds the all-time wins record with 511. This record will never be broken unless Jesus decides to play baseball.
Lowest Earned-Run Average
Lifetime Yankees closer Mariano Rivera holds the career earned-run average record for relief pitchers with a 2.21 ERA. For starting pitchers, Whitey Ford holds the record with a career 2.75 ERA.
Most Strikeouts and No-Hitters
These two records will most likely never be broken by any baseball pitcher. Flame throwing Nolan Ryan holds the record for career strikeouts with 5,714, and career no-hitters with seven. "The Ryan Express", formally known as Nolan Ryan, achieved these accomplishments by pitching for four separate teams including the Mets, Angels, Astros, and Rangers.
Additionally, Ryan also pitched in the major leagues for 28 seasons (1966-1993), making him one of 29 players in baseball history to pitch in four different decades (Source: Baseball Almanac).